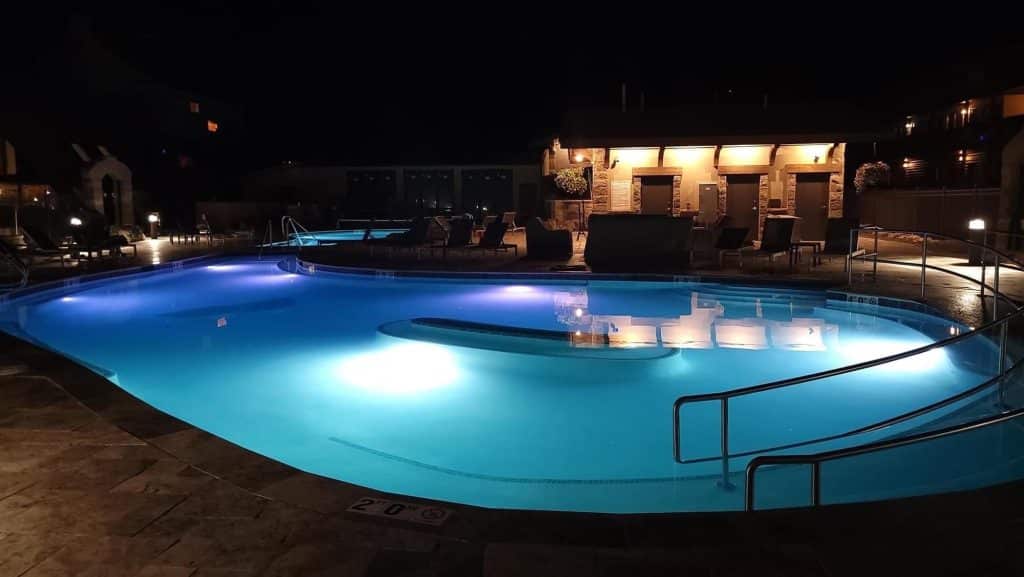 Expectations run high on New Year's Eve as everyone counts down to the big moment to sing, toast, and kiss the old year farewell and welcome the new year with all its promise. If you're looking for a place to relax and view the New Year's Eve fireworks, look no farther than the Twin Peaks Lodge & Hot Springs. 
At Twin Peaks, we offer 2 heated swimming pools and 9 hot spring soaking tubs, all with a fantastic view of the evening's fireworks. The mineral-rich waters of our soaking pools are a great place to relax and reflect on the past year, or to motivate you to create some fresh resolutions if you're the resolution-making kind.
In addition to after-hours access to the hot springs facilities from 11 p.m. on December 31, 2022, until 1:30 a.m. on January 1, 2023, your ticket includes NYE Party favors, a mini-charcuterie tray, a hot springs friendly champagne flute and champagne for midnight, as well as access to the Mineshaft Restaurant's N/A beverage bar.
Ready to soak in the final hours of 2022? For more information, or to reserve your tickets today, click here. 
This update is provided by Twins Peaks Lodge & Hot Springs. Our Ouray Colorado lodging, full-service hotel has seven different room types including rooms for couples or families with children. Our amenities include hot springs, a free breakfast, spectacular vistas of the mountains, and much more. For additional information on our Ouray Colorado hot springs, please call (800) 207-2700 or visit us at 125 3rd Avenue Ouray, Colorado 81427.